1. To create a new project click on

button or select "File" -> "New Project". After that Project Settings windows will appear.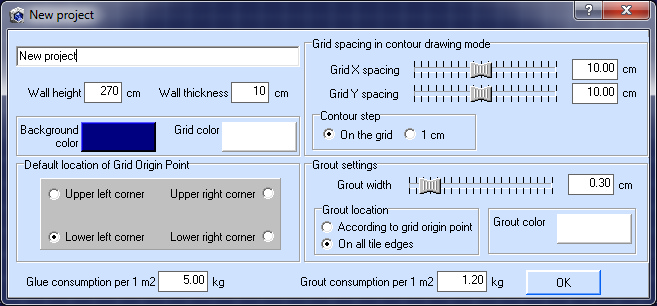 You can open Project Settings window anytime by clicking on

button.
In the 'New project' field you can specify new project's name (not the project's file name).
In the 'Wall height' and 'Wall thickness' fields you can set parameters of a new room. It is possible to change wall height and thickness even for separate walls and even after the room was created. But you can't do it for corner blocks (the blocks that are used to connect one wall to another). Therefore, it is highly recommended to set a wall height and thickness before creating a room.
Using 'Background color' and 'Grid color' fields you can change background and grid colors in the main window.
'Default location of Grid Origin Point' - when you create a surface on a wall Grid Origin Point will be placed in the specified corner.
'Grid spacing in contour drawing mode' – defines distance between gridlines in contour drawing mode. When you draw contour points of contour 'cling' to grid nodes helping you to draw straight lines easily. You can change grid spacing using in the program's main window by clicking on

button.
'Contour step' – you can set the pitch of the contour of 1 cm thus the grid will remain the same as installed but it will be possible to draw the contour on 'virtual' grid with an accuracy of 1 cm.
'Grout width' and ' Grout color' - these are default parameters for grout. You can change grout width or color for a separate wall, block's surface, ceiling, floor or cutout.
'Grout location' – 'According to grid origin point' – tile is laid very close to the Grid Origin Corner and all grout joints are created by adding grout joint width to tile width and height. 'On all tile edges' – a tile is placed in the center of the grid step, i.e. grout joints are located symmetrically on all tile sides. In both cases the grid step is equal to the tile width/height plus the joint width.
'Glue consumption' and 'Grout consumption' – these parameters are used to calculate the required amount of glue and grout.
Settings 'The background color', 'The color of the grid', 'The step of the contour – by grid or 1cm' are stored as settings of the program (Tile3D.ini). The color settings are sent to the editor of the Blocks and the editor of the Walls of the main contour.