27.5. This panel contains a list of objects that are used in the project and is intended to adjust light settings of all materials of objects: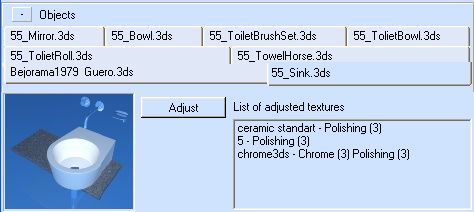 /

button before the name of the panel allows you to hide or show the panel.
On the left you can see an image of an object (if the image exists – all 3dt objects have such image, but 3ds objects don't have it), on the right – the list of adjusted materials of the object. In the list after the texture name you can see the name of replacement material (the number of replacement material from the list) and material polishing degree (the number of selected polishing degree).
'Adjustment' button opens Object properties window, using this window you can adjust all materials of the selected object. Most objects on www.tile3d.com website are already adjusted for use in POV-Ray render. After you load an object into the project, its textures are automatically loaded in the 'List of adjusted textures'. However, if you have saved object's settings in the Object properties window, then this settings have a priority over the settings that are stored in the object itself.